The Ultravore Is one of the biggest fishes in the game here is the information!
Name: Ultravore
Cost: 10,000 (insaniquarium only) 15,000 (insaniquarium 2 only)
eaten by: King Intruder
appearance
Edit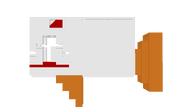 similar to insaniquarium's but it is more different, it is made out of lego and it is made in LDD (Lego Digital Designer) the red bricks (down-left) is blood and its eye(because ultravore eats to many carnivores) and the white bricks are its body and the orange bricks are its fins and its tail.
the ultravore's appearance is different than insaniquarium's
if it dies, it shatters and fade away
this fish got his name from insaniquarium
people always hated this fish because it reminds them it causes the game lag when 100 or more but it does not lag at all
Ad blocker interference detected!
Wikia is a free-to-use site that makes money from advertising. We have a modified experience for viewers using ad blockers

Wikia is not accessible if you've made further modifications. Remove the custom ad blocker rule(s) and the page will load as expected.